MEAN WELL Debuts HBGC-300W Constant Power Mode LED Driver
Time:2018-08-23
Views:284

(Image: MEAN WELL)
MEAN WELL now launches HBGC-300 series (300W) which has the same circular housing design for Bay lighting and Flood lighting application to offer more choices for high wattage
LED driver and design. With the circular housing design (patent No. CN 201220314551), LED driver matches with the lighting fixture in streamlined shape.

(image: MEAN WELL)
HBGC-300 series can operate with wild AC input range(100 ~305 VAC) and adopts constant power mode design, reaching high efficiency up to 94.5%. Other features include high surge
protection with 6kV(L/N-FG)/ 4KV(L-N), wide working temperature range(-40℃~50℃) at full load operation. Last but not least, it offers 3 in 1 dimming or DALI control to achieve IoT control.
Features:

Wide input range 100~305VAC
Constant power mode with adjustable output current.
Built-in active PFC function and Efficiency up to 94.5%.
Dimming functions: 3 in 1 dimming and DALI .
Protections: short circuit, over voltage, over temperature
Surge protection with 6KV(L/N-FG)/4KV(L-N).
5 years warranty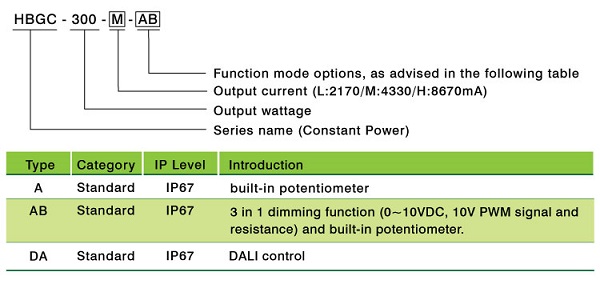 (Image: MEAN WELL)
Tag words: LED linear trunking rail system , Linear LED high bay light , Linear LED low bay , LED triproof light , SMD LED Flood light ,Modular sport LED flood light ,
DOB LED Flood light , Driverless LED flood light , UFO LED high bay , LED troffer , LED area light , LED street light