London's River Thames to be Illuminated with LED Lighting to Become the World's Largest Artwork
Time:2018-08-23
Views:358
The City of London Corporation passed a project to set up kinetic light installation on 15 bridges on the River Thames as a free public artwork to emphasize the spirit of the river and its interconnections with the bridges and the city.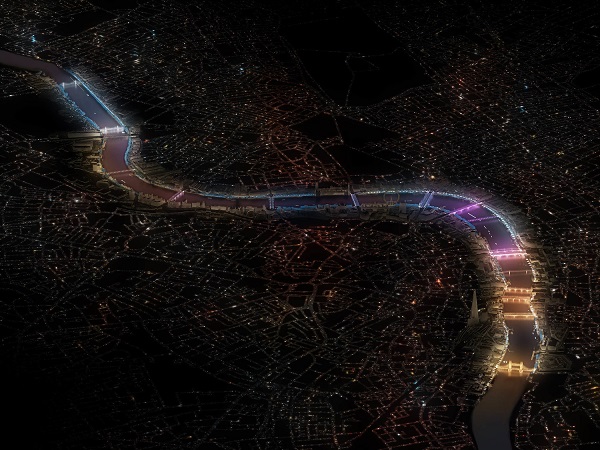 (Image:Leo Villareal)
The project, named "Illuminated River," was initiated with an international competition in 2016 and the winning project was designed by an American light artist, Leo Villareal and a London architect, Lifschutz Davidson Sandilands. The concept of their design is deploying advanced LED technology to create softer illumination for each bridge according to their architectural characteristics and historic background. Moreover, the project claims that the new installation has the potential to reduce current energy costs by 50 percent as well as to save maintenance costs.
As the project is estimated to cost around GBP £20 million (US$ 26.3 million ), the operating foundation has been raising money from philanthropic sources, without receiving further public funding. The art installation will be carried out in phases from 2019 to 2022.
Mayor of London Sadiq Khan said: "The Illuminated River will give London free art. The project also means that a wasted asset and wasted resource will now be used. The team had thought through how the project is sustainable, how it will be energy efficient and use less energy."
Efficient Industry,Created by Dualrays!


Tag words: LED linear trunking rail system , Linear LED high bay light , Linear LED low bay , LED triproof light , SMD LED Flood light ,Modular sport LED flood light ,
DOB LED Flood light , Driverless LED flood light , UFO LED high bay , LED troffer , LED area light , LED street light,
Dualrays Optoelectronics